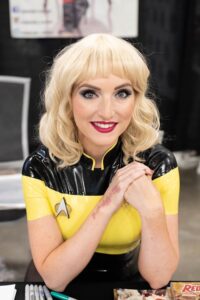 Alkali is a Kentucky born and Idaho raised nerdy potato. She lives in Boise with her husband, two kids (tater tots). Alkali is a mixed bag of uber nerdiness with a splash of "what the heck is that?!" She's a Nerdy Cosplayer Streamer Mama! Her nerdy experiences and travel have led her to some pretty epic stories and a unique view of life!
Getting that start…
Alkali first rose to internet fame in 2014 as she hit the ComicCon cosplay scene and became known for her "pop-art" style cosplay and makeup. Her most well known cosplay is WonderFett, a modern mash-up of Wonder Woman and BobaFett. She exploded on the scene quickly due to her quirky cosplay choices. Some odd standouts include: Quailman (Doug, Nickelodeon), The Tick and her take on Sheldon from The Big Bang Theory. Her greatest achievement in the cosplay world has been qualifying and competing on stage at the 2019 Twitchcon Cosplay Contest.
Prior to ComicCon jet setting, Alkali led an interesting life as a SPFX makeup artist. However, living in Boise (not Hollywood) meant most of her makeup talents were used to create zombie after zombie on low-budget small films. One day, Alkali knew she'd had enough so she tossed aside the zombie blood and put on her Superhero big girl panties and charged ahead. <<<<No really…that's pretty much exactly how it happened! More on that story can be found here.
Alkali has enjoyed touring the United States, Canada and the Middle East as a cosplayer, but these days you'll most likely find her streaming on Twitch. She's a member of pro eSports team Fade2Karma and can be found creating cosplay armor, playing Hearthstone or being snarky with "chat".
Finding the way…
Fast forward to 2020 and Alkali is on a mission to share her crazy nerdy stories with the world. Stories you just have to read (or watch on YouTube) to believe! One small house, one giant muscle factory of a husband and two pre-pubescent tater tots. Let's see where this goes…